Click for Enlargements


View of Yellowknife from Old Town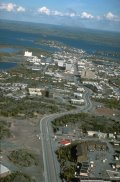 Aerial View of Franklin Avenue
A Brief History of Yellowknife
When Samuel Hearne, an explorer for the Hudson's Bay Company, reached the shores of Great Slave Lake in 1771, he became the first white man to have reached the lake. Accompanying Hearne were several natives from the Yellowknife tribe, a band of Indians who frequented the north shores of Great Slave Lake. The City of Yellowknife was named after this tribe. Hearne called them the Copper Indians, but fur traders soon were referring to them simply as the band with yellow knives, or the Yellowknife tribe. The Yellowknife Indians were driven from the area by Warring Dogribs around 1830, but their name remained.
In 1896, miners on their way to the Klondike discovered gold in Yellowknife Bay, but Yellowknife might not have existed today, if it weren't for the discovery of pitchblende in 1930 on Great Bear Lake. The discovery led to the mining of radium ore from Eldorado Mine and because of this, prospecting activities in the Northwest Territories were increased. It was during this increased activity, that prospectors headed down the Yellowknife river, found gold in the East shore of Yellowknife Bay in 1934.
During the Second World War, gold production slowed down, but started to increase steadily after the war and in the year 1948, Giant Mines began commercial gold production. The population grew and by 1947 an extensive building program had begun that included hydro-electricity, water and sewer systems. In 1953, Yellowknife became a Municipal District and its first mayor was elected.
On May 1, 1967, Yellowknife became the capitol of the Northwest Territories. The commissioner of the Northwest Territories and his staff moved to Yellowknife in September of 1967. Three years later on January 1, 1970, Yellowknife became the first city in the Northwest Territories.
In 2002, the city's population was 17,807 residents.
Yellowknife is considered to be one of the best places in the world from which to view the Northern Lights. (Aurora Borealis) To learn all about the Aurora, this site click here has plenty of information and images with regular forecasts of Aurora activity over Alaska and the northern hemisphere.
Our Trip to the Northwest Territories continued
Our brief visit to Yellowknife was spent waiting at the airport while our plane was being refueled. During this time someone shouted out "there's a polar bear on a chevy outside." of course a few gullible people had to run outside to check it out. If you dare to see what they saw, click here.
Here's a picture of Larry and Earl at the airport, click here. Well it's almost time to finish our last 500 miles or so. The next stop will be a non-paved runway at Great Bear Lake.
Click for Enlargements


Yellowknife under the Midnight Sun